During the last consortium meeting in Mullingar (Ireland), the project partners got the chance to visit SteriPack facilities and met with Alejandro Muñoz Espiago, Director of Technology who is telling us more about SteriPack's contribution to ACROBA.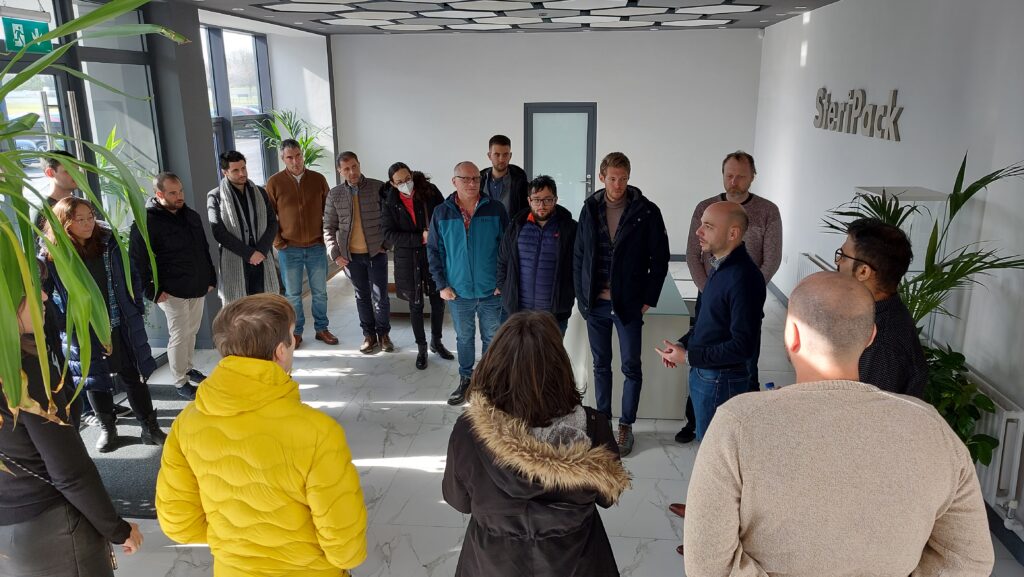 Please tell us in a few words about SteriPack Ireland.
SteriPack Ireland is a leading provider of solutions for the medical device, pharmaceutical, and allied health industries. Although the company was founded in 2017, it has a rich history dating back to 1994. With over two decades of experience in the industry, SteriPack Ireland has become a trusted partner with our customers.
At SteriPack Ireland, the team offers a full range of innovative manufactured solutions to meet the unique needs of each and every customer. Whether it's designing sterile packaging products or providing detailed guidance on the suitability of materials, our design and manufacturing experts work with customers through every stage of the process from initial concept to delivering the highest-quality product solution.
Located in the heart of Ireland, SteriPack Ireland is situated at the state-of-the-art National Science Park in Mullingar. The 10-hectare park serves as a hub for research and innovation in the life sciences, making SteriPack Ireland a leading player in the Irish medical device and pharmaceutical industries.
To learn more about SteriPack Ireland and its solutions, visit the company's website at www.steripackireland.ie. We are committed to delivering innovative, high-quality manufacturing solutions that meet the evolving needs of its customers in the healthcare industry.
What is the role of SteriPack Ireland in the ACROBA project ?
SteriPack Ireland has a critical role in the ACROBA project as the industrial demonstrator and leader of WP4, which focuses on Lights out manufacturing. The use case of SteriPack Ireland is centered around medical devices production, which will demonstrate the capabilities of the ACROBA platform in a real-world production environment. As the leader of this work package, SteriPack Ireland is responsible for overseeing the development and implementation of the Lights out manufacturing use case, working closely with other project partners to ensure the success of the project.
Why did you decide to join the consortium ?
At SteriPack Ireland, we are always looking for innovative technologies and solutions that can improve our manufacturing processes and increase our competitiveness. The ACROBA project's objective to develop a cognitive robotic platform based on a modular approach that can be easily adapted to virtually any industrial scenario using agile manufacturing principles aligns perfectly with our goals.
Moreover, as a member of the consortium, we have the opportunity to collaborate with other leading companies and organizations in the field of robotics and artificial intelligence. This allows us to share knowledge and expertise, and to work together towards a common goal of developing a groundbreaking concept of scalable cognitive robotics platforms that can revolutionize industrial production. We believe that the ACROBA platform can benefit not only our company but also a wide range of industrial sectors, including small and medium-sized enterprises (SMEs), through its cost-effective integration and smooth adoption.
In what aspects do you expect that ACROBA will have the biggest impact ?
We expect the ACROBA platform to have a significant impact on several aspects of industrial production. Firstly, the platform's modularity and scalability will enable the rapid reconfiguration of robotics production platforms, allowing for the implementation of advanced, cost-effective robotics solutions in small- and large-scale industrial applications. This will increase the flexibility and agility of manufacturing operations, enabling manufacturers to respond quickly to changing market demands and customer needs.
Secondly, the ACROBA platform's use of artificial intelligence and cognitive modules will enhance the ability of robotic systems to self-adapt to different production needs. This will allow for the personalization of products and the mass customization of products, increasing their value and appeal to customers.
Thirdly, the ACROBA platform will enable the deployment of advanced robotic solutions in agile manufacturing industrial lines, particularly for SMEs like SteriPack Ireland. This will level the playing field for smaller operators, enabling them to compete with larger manufacturers and increase their competitiveness in the global market.
We expect the ACROBA platform to have a transformative impact on industrial production, enabling SteriPack Ireland to improve efficiency, reduce costs, and increase their competitiveness.
What are the 3 words that come to your mind when thinking about ACROBA ?
When thinking about ACROBA, the three words that come to mind are innovative, agile, and modular, which reflect the project's goal of developing a groundbreaking concept of scalable cognitive robotics platforms that can revolutionize industrial production.